GROUP

Supervision For Coaches & coaching psychologists in-Training or experienced
I am a BPS RAPPS registered supervisor offering one-to-one supervision to coaches and coaching psychologists in training.
I help aspiring and experienced coaches become accredited, and maintain their accreditation, by implementing a structured framework for emotional, personal professional development.
I offer a reflective practice group programme SMART SUPERVISION AND DEVELOPMENT FOR PROFESSIONAL COACHES.
As a professional coach, you know you need supervision :
Reflect on your coaching practice

Get different perspectives on specific cases

Untangle ethical dilemmas

Learn new skills and techniques

Progress with your formal accreditation as a coach
But what if you could do it whilst working on your personal development? 
Examining what makes you tick, your processes, your mission and your USP…
Learning how to be at your peak mental performance and optimising your emotional state…
Making sure you are well-resourced so you can offer the best of yourself to your clients, friends and family…
Smart Supervision AND DEVELOPMENT for Professional Coaches
An evidence-based, three month Personal and Professional Development Programme. It's as much a self-development programme as supervision
that's why it's smart.
Not only will you reflect on your coaching practice, challenges and ethical issues with a group of like-minded coaches, but you will learn to use an advanced existential psychological framework to explore your self, your time, your knowledge acquisition, your planning and processes, your work, your relationships, your motivation and your flow.
A healthy and reflexive coach gets better results for their clients and themselves.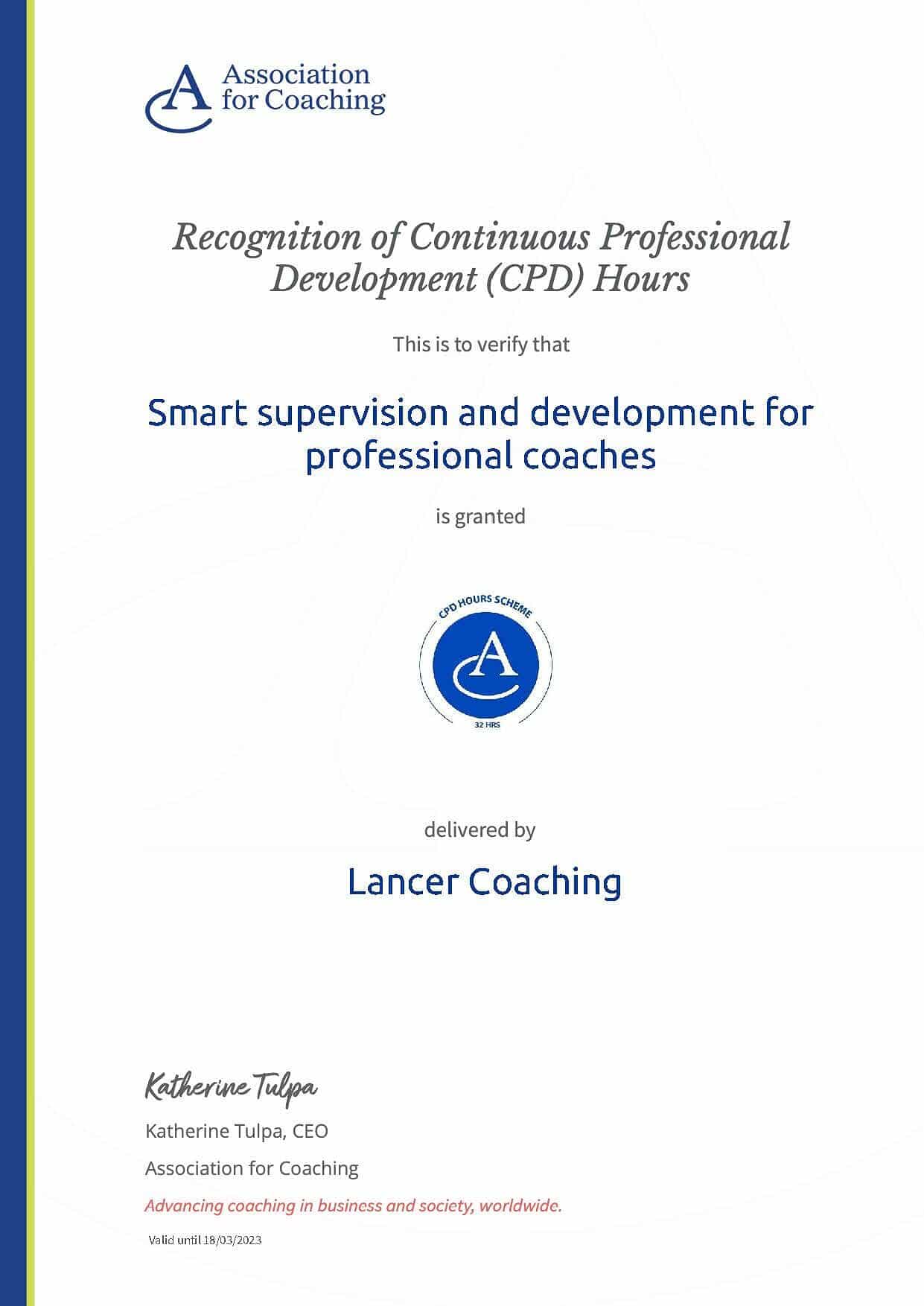 The Smart Supervision and Development for Professional Coaches Programme is accredited by the Association for Coaching and counts as 32 CPD hours.

Contact Natalie For More Information & Bookings
feedback for the Smart Supervision AND DEVELOPMENT for Professional Coaches
Natalie is an excellent supervisor. As a practising coach it is important to continue to build up a range of effective strategies to support coachees to achieve their goals. There are many models to enable coaches to work with clients and these models can act like 'lego' bricks to create a structure through which coachees are able to achieve their goals or to modify their behaviour. However, tried and tested a coaching model is, it may not always provide a secure fit to help the coachee on their journey. To understand how to become a highly effective coach, that person must have a good understanding of themselves. Natalie's strength as a supervisor has encouraged me to reflect on myself as a coach. She has enabled me to deepen my thinking and understanding of myself, my personal development and what makes me 'tick'. Understanding myself is integral to my role as a coach and ultimately in helping others on their journey to achieve their goals and to find themselves.
Natalie uses her expertise as a supervisor to explore the impact of asking the right questions to open up corridors towards finding solutions. Natalie has been particularly good at holding a mirror up to me as a coach to enable me to see my personality and presence as a coach and the impact these have on my work. From this process I have been able to redefine ways in which I work with clients to enable them to gain the best experience possible from my coaching. Natalie's supervision has meant that I feel more confident when I coach others. I am able to draw down on a number of personal strategies to deepen the impact of the coaching process with my clients.
Natalie has been my coach-supervisor for over six months and I believe that she has enhanced my work as a coach enormously during that time.
I support PhD students to get the thesis done without burning out at Study Hubs (online and live retreats), through signature lectures and through the Smart Self-Care Programme and one to one sessions.
The Smart Self-Care and Personal Growth Programme
Life is hard to manage at the best of times, but throw a PhD or other huge projects into the mix and then you can feel a bit off kilter. The Smart Self-Care Programme teaches you how to manage your self, your time, your knowledge acquisition, your planning and processes, your work, your relationships, your motivation and your flow, all within an existential psychological framework. 
It will teach you how to track your existential quandaries and experience the dynamism of the 8 tensions as a source of energy and zest. People track steps and eating habits. Why not existential quandaries?
At school, no-one ever taught you study skills, which is the one thing you actually need to learn; master that and then you can learn anything. Similarly, academics traditionally don't speak openly about skills you need to manage your self in order to manage your PhD. You are the greatest asset of your work. Keep yourself re-invigorated the smart way.
The programme is for ten months. We start with a one-to-one welcome and orientation Zoom call.  You then engage with the introductory module where we understand the existential psychological framework and key principles, and then each month, we go deep on one of the Eight Tensions.

You get sent a pre-recorded video to watch explaining both sides of the tension. 

You also get sent exercises you can complete to help you figure out where you

are on the existential quandary and how you can move to where you want to

be. 

You can discuss your answers to these exercises in our private Slack group. At

the end of our examination of the eight tensions there is a 'tying it all together'

module. 

Twice a month we have a Zoom group coaching call to discuss the month's tension, our take on it and to set intentions, with a focus on practical steps we

can take to get there. There are two days to choose from – Tuesdays 2.30pm-

3.30pm or Wednesdays 2-3pm UK time. The two dates per month will be sent to you in advance. You are welcome to attend both or to pick one or another. 

You also get four one-to-one half hour coaching sessions with me, which you can book in at any point over the ten months. I suggest booking in a session after every two tensions. 

Each participant gets an Eight Tensions tracker e-journal to track their existential quandaries which we discuss in the group and one to one coaching.
Coaching Chemistry Meeting
You are welcome to book a 15 minute no-obligation call with me to check I am the right coach or supervisor for you.